This article is all about the Targaryen Family Tree full – of House of Dragons and Fire and Blood. The House of Dragons took place 200 years before  The Game of Thrones King Viserys is the 5th generation of the House of Targaryen.
Daenys Targaryen – The Dreamer
Daenys Targaryen is come known as "The Dreamer" he was a visionary who had a vision for the city of Valyria where all the Dragonriders once lived, and was consumed by some event that came to be known as an apocalyptic event. Her father Aenar Targaryen saw this vision and moved the entire family from Valyria to Dragonstone. Daenys vision came true, and the Targaryens became the last surviving Dragonriders worldwide.
Aegon Targaryen
Aegon Targaryen is the one who united the seven kingdoms of Westeros with the help of his two sisters, Rjaenys and Visenya.  Who late became his wife as well. Targaryens often married in the bloodline to keep the bloodline pure. So they can be the only breed to ride dragons. And we have seen in game of Thrones that whenever a Targaryen is born, they will either become a good leader or their personality will be twisted. In Aegon's case, he had two sons  "Aenys I Targaryen, who was a great leader, whereas his brother Maegor also known as "The Cruel one, " murdered his brother.
Aenys I Targaryen
Aenys is a very odd name (although it's pronounced as Ennis) he became the King and was a very kind and fair ruler until his Step Brother "Maegor" killed him in cold blood. He pronounced his vows to Alyssa Velaryon, she was a descendant of one of the Valyrain Families who survived the downfall of the city of Valyrain. However, they were not the Dragon riders. Velaryons played major roles in Game of Thrones as they became allies with Targaryen very early.
Maegor Targaryen
He is the son of Aegon I Targaryen and Visenya Targaryen. He was not able to see his half-brother become a King. So he murdered him in Rage and cold blood. After murdering his brother, he took the throne of King's Landing and ruled Westeros for only six years as a cruel tyrant, he is a warrior by nature. he met his end and died mysteriously while sitting on the Iron throne. He died childlessly as a direct Successor to the Throne.
Jaehaerys Targaryen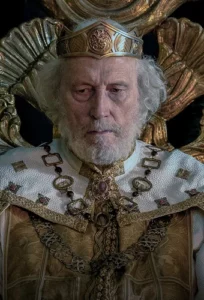 After Maegor died while sitting on his Iron throne, how he died is still debatable. Aenys I Targaryen's son "Jaehaerys  Targaryen" took the throne as he was the heir to the Iron Throne. However, his hand Lord Rogar Baratgeon and Alyssa the Queen regent rule until he reaches the age of 16 years old. He married his Sister Alyssane for obvious reasons, and they were in love. They were supposed to marry outside the bloodline, which did not happen. Jaehaerys Rule over Westeros is considered the Golden age of the entire Westeros.
Under his rule, he built sewage systems and roads and did everything a king should do despite burning people to crips with dragon breath. Jaehaerys and Alyssane together have a huge number of children standing at 13. However, we will talk about a few which played a role in shaping Targaryen family Legacy.
Aemon Targaryen
He was Jaehaerys firstborn son to survive till he reached adulthood. He got married into the Baratheon family to Jocelyn Baratheon. She was not a Targaryen however, her aunt belongs to a Targaryen family. But he died after some time. He had a daughter with Jocelyn named " Rhaenya".  After his death, his younger brother Baelon became the Heir to Iron Throne.
Baelon Targaryen
Baelon Targaryen and his sister "Alyssa Targaryen" got married and had two sons "Viserys Targaryen" and "Daemo Targaryen" Baelon died because of Belly Burst, which we call Appendix burst nowadays. After his death, king Jaehaerys do not have an heir to his throne. According to the order of succession, Jaeharey's eldest son Aemon and daughter Rhaenys should be first in the line to take the Throne. But as we know, Westeros is an old civilization and orthodox minds were not in favor of women ruling the throne over the Lords of Westeros. So the Council decided that Baelon Targaryen's eldest child "Viserys"  to Inherit the Iron throne over Rhaenys, and that is how she got the title  " The queen who never was".
Viserys I Targaryen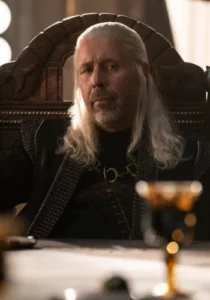 Viserys Targaryen got married to his cousin Aemma who is a daughter of Rodrik Arryn and Daella Targaryen she gave birth to a daughter Rhaenyra Targaryen. But due to unseen circumstances, she had many miscarriages, and Aemma died while giving birth to a son heir. She got into a complication while giving birth, and there were two ways: cut the child out of the belly or let both of them die. So Viserys decide to go with C-section against her consent. However, which results in a son's birth, he also dies after a few breaths.  He left only one option to name his daughter as his Heir to the next in line to inherit the Iron throne.
Deamon Targaryen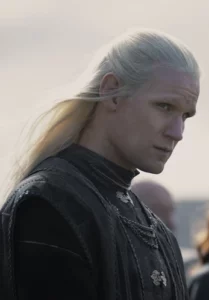 Daemon Targaryen is a bloodthirsty  Warrior and secretly has an eye on Iron Throne. He is a Commander of Kings Knight watch. The council proposed this post for him to keep a leash on him. The Counselors fear Daemon can take rash action to overthrow Viserys from the Iron throne as he could not produce an Heir. He has been married for a strategic purpose, but he does not show any affection toward his wife.
Alicent Hightower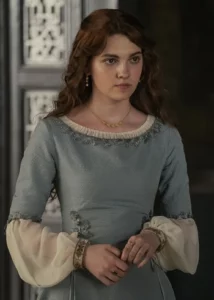 Alicent Hightower is a beloved daughter of Otto Hightower (hand of the King), and she has been given to both Jaehaerys and King Viserys, she is a woman who keeps company to Princess Rhaenyra Targaryen. But his father, Otta Hightower, tells her daughter to comfort and console king Viserys as he cannot focus on the kingdom after the death of his wife. And later on, King Viserys falls for her, and they have Aegon II as a son.  Daughter Helaena Targaryen, Aemond Targaryen, and Daeron Targaryen.
Rhaenyra Targaryen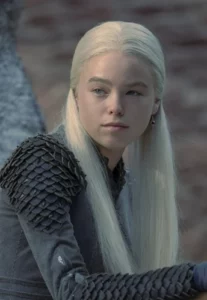 King Viserys has ignored her for a long time as he hoped for a son being his heir to replace him. But that did not happen, so he had to name her as heir next in line after his wife's death and could not produce an Heir to the Iron Throne. She does not wish to sit on the Throne and does not want to marry his half-brother, which leads to souring many essential relationships in the kingdom of Westeros.
Aegon II Targaryen
Aegon II's birth sends the kingdom into further chaos when the counsel starts questioning why to pass the throne to his daughter Rhaenyra when he now has a son, even though he is half Targaryen or half blood.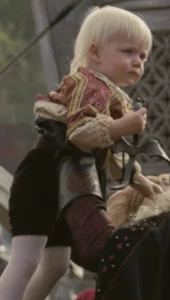 Corlys Velaryon (The Sea Snake)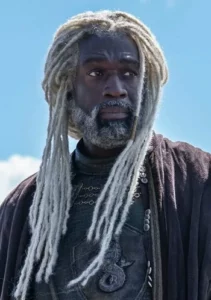 Corlys married Rhaenys Targaryen it is rare to see such a pair in the history of Westeros. They have a son Laenor and a daughter Leena Velaryon, he also put pressures Viserys to marry Leena, but Viserys gets married to Alicent Hightower.  Their childer played an important role in the future as they are key role allies to many Targaryens.
The Targaryens in "Game Of Thrones" started after 200 years of Civil war inside The House of Targaryen. The death of King Aerys II  also known as Mad King, was killed by Jaime Lannister. Then The Game Of Thrones started.
Aemon Targaryen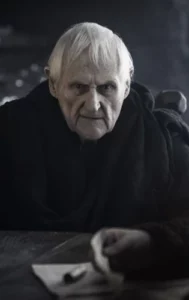 Aemon Targaryen, The Targaryen we have seen in the game Of Thrones, who served as a Master of Night's Watch. He was seen in very old age, and most people have forgotten that he is even a Targaryen, he is a Grand uncle of Mad king Aerys II  Targaryen who was the father of Daenerys Targaryen. In his younger days, Aemon was offered the throne however he refused. After his refusal, his brother Aegon 5th took the throne.
Aegon The Fifth
Aegon is the number four son of marker I . he is Aerys II's grandfather, making it easy for you to remember. He took the throne against all odds. He was the fifteenth Targaryen King of seven Kingdoms. Unlike most of this family history, he turned out to be a good king and had a good thought process. He gave birth to many off-springs. One of his children, Jaehaerys, got along with his sister "shaera" and gave birth to two children named "Aerys II" (the Mad King) and Rhaella. Later they both got married to each other.
King Aerys II ( The Mad King)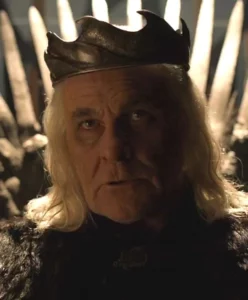 Aerys II Targaryen is mentioned many times in Game of Thrones. As it was the end of Targaryen's rule over the Seven Kingdoms and the Robert Rebellion, through which lots and lots of bloodshed happened throughout to the end of GOT.he married his sister Rhalla. He was good at the beginning, but many dreadful events made him a twisted and cruel person over time.  He killed Rickard stark, father of Edd stark, and also his oldest son Brandon. Where later, Eddard Stark comes for justice as Aery's eldest son " Rhaegar" has kidnapped his sister Lyanna Stark. Where in secret, they were lovers. Which is revealed later. He was killed by his own Knight, Sir Jaime Lannister. Who later called king slayer.
Rheagar Targaryen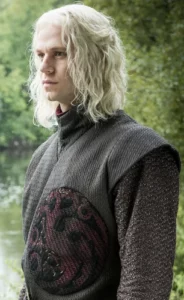 Rheagar Targaryen was a firstborn of Aerys II Targaryen. He had a very charming personality, and every girl in the entire Westeros can fall for him as he was Silver-haired Knight. He married Elia Martel in front of his family, but he was madly in love with Lyanna Stark sister of Eddard Stark.  Both of them left in secret and got married, and everyone believed that Rheahar Targaryen has kidnapped Lyanna Stark, on which the entire war was fought. Just because of a lie. His wife Elia Martel was raped and killed by Sir Gregor Clegane during the attack and as well as her two children leaving Jon Snow the last heir to Iron Throne from the Targaryen dynasty.
Viserys Targaryen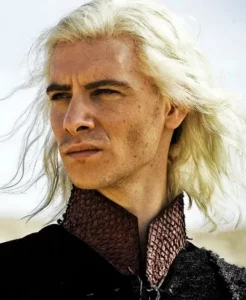 He was the second son of Mad King (Areys II). He was a cruel and ambitious man who raised his younger sister "Daenerys"  not in a good way.
When his father was killed, he took his sister, ran, and raised her in exile from seven kingdoms. He was so determined to get the throne back that he made his sister's childhood a nightmare. He sold his sister to Khal Drogo, a warlord. When his sister gets good treatment, he gets mad, and during one of the rage episodes, he confronts Khal Drogo. Khal poured molten crown gold onto his head, killing him instantly. Daenerys was also there she saw all this happening.
Daenerys Targaryen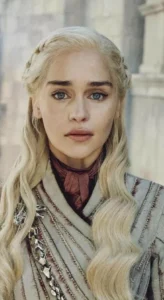 She was the youngest child of Aerys II Targaryen. Her brother abused her only to gain allies on his quest for the throne. However, after an episode with Khal Drogo, his brother died . when Khal Drogo died, she sat on fire with three dragon eggs, and she came out with three baby dragons and got the name " Mother of Dragons" to get to the throne she traveled through Continents and also freed so many slaves.
She made he way to Westeros by seducing Jon Snow, who was his Nephew, she burnt all the king's landings during this process she also lost two of her dragons.  After killing Queen Cersi she was ready to take the throne by things did not go her way as her love Jon snow pushed a dagger into her belly just to protect seven kingdoms.
Jon Snow or Aegon Targaryen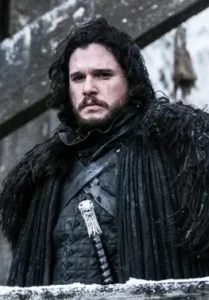 Jon was the son of Eddard Stark's sister but was raised as a bastard alongside stark sons. Jon learned about his ancestry when his younger brother Bran Stark told him that he was the legitimate heir to the Iron Throne and the son of Rhaegar Targaryen and Lyanna Stark. But things did not go his way even after murdering the love of his life. He was sent back to night's watch and branded as for Treason.
This is the complete family tree of Targaryen's now, the new season has been released as House of dragons, and you can also say Game of Thrones Spinoff. We will see what all is there and what all they have included from the books and many more. Check out other Family Tree of Famous People